Visit the Hill House website for additional information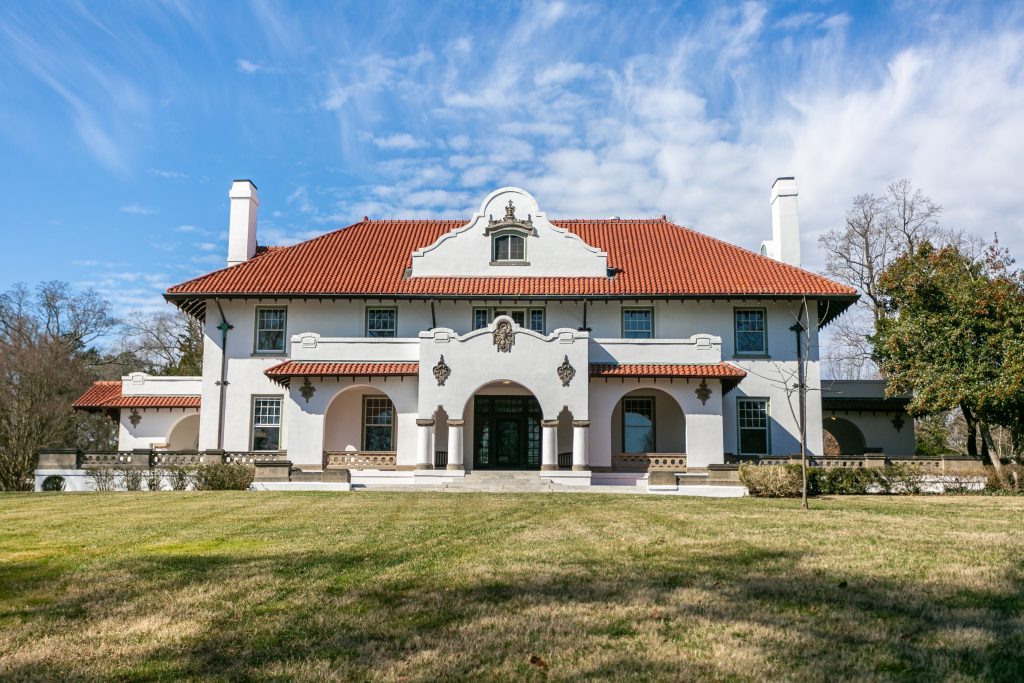 The Junior League of Durham and Orange Counties is fortunate to call Hill House its home.
The mission of the Hill House is to positively impact the community by offering a unique rental space that preserves Durham's most treasured historical landmark.
Hill House History
The John Sprunt Hill House was originally built in 1912 to serve as the family home of Mr. John Sprunt Hill, his wife Mrs. Annie Watts Hill and their three children. The Boston firm Kendall and Taylor, which also built Watts Hospital, designed the house in a modified Spanish style with stucco exterior and a red tile roof. All the woodwork on the first floor and most of the furniture was designed and manufactured by another Boston firm, Irving Casson, the same firm that created the woodwork for Duke Chapel. 
Building began in 1911 and was completed in 1912. The original grounds (a full city square around the house) included a tennis court, a putting green, a pergola, and a formal rose garden. Across the street to the south (now the site of Orchard Park, a gift of the Hill Family to the City of Durham) were a large vegetable garden, orchard, stables for horses and cows, as well as several greenhouses. The interior of many of the rooms of the house, particularly those on the first floor, appear today much as they did when the Hill family lived here. Many of the furniture pieces and
rugs are original as well. 
In recognition of his wife's participation in civic functions, John Sprunt Hill's Will established a trust, the Annie Watts Hill Fund, so that Hill House would serve as a continuing memorial to Mrs. Hill. Use of Hill House is now reserved for Durham women's civic groups, especially as a place for their meetings. Funds for maintenance and direction for its use are administered by SunTrust, The Hill House Trustee. 
It is important to clarify that the JLDOC does not hold ownership of Hill House. In 1963, our league (then the Junior League of Durham), through its nonprofit status, began to enjoy an intricate legal relationship that in effect binds Hill House to the JLDOC together, to the benefit of each. Thus, the JLDOC is able to call Hill House its home! 
To request rental information, please email [email protected] or visit hillhousedurham.org